Hi!! How have you been?
I've startded the 3rd year of my independent label LAIF ART MUSIC.
I'll appreciate your support as always.

This is the latest release information about my 2nd 12inch single. Finally I'm going to release"Northern Eyes" on May 16th. The price is 1,300 yen(tax in).
It includes my original 3 tracks. I attach LAM original coaster to the record. You may think a coaster doesn't look like having something thing to do with a record, but I put my message that I want you to relax and enjoy music over your favorite drinks. I ordered my vinyl pressing to a company in America. Of course it was the first time for me to order outside Japan, so it took longer than I expected to finish ordering. But I could experiece and study many things for LAM.
I deeply hope the records will reach many people.

The title is as follows.

@Side A@1. Northern Eyes
@Side S@1. Heartech
@@@@@@2. N.I.A.W.A.W@



These shops deals the record: DISKNOTE MORIOKA(Morioka), STYLE OF REVIVE(Hakodate), For you(Hachinohe), THREE D(Hirosaki) and BITTER DARTS(Aomori) where I got big support for 1st 12inch. And one more new record shop, DANCE MUSIC RECORD(Tokyo, Osaka) started dealing my record. DANCE MUSIC RECORD online shop began accepting reservations for my release on May 16th, it can be previewed so check it out now!!

You can go from here!! DANCE MUSIC RECORD





I'm going to hold a release party "LAIF vol.4" on the very day of my release, on May 16 @SUNSHINE in Aomori, Japan. As the same as the last time all music is played by LAM/Taisuke Chiba, so I'm so excited. I feel like playing each piece of music with all my heart all night, I would like you to feel the world of LAM which is created by many pieces of music from the world and those from my heart, with your eyes, ears, hearts and bodies.
Of course this party LAIF vol.4 is also free to enter, so please come and let's enjoy the night together!!


You can get my new record at LAIF vol.4 at SUNSHINE on May 16th, but some who want to buy and listen to my record don't have enough system to play record.... I'm going to present a CD-R with 3 tracks(31pieces only) to people who want CD format. So please buy my record and enjoy AOMORI music. And also, I hope this record will touch the people's hands, who really love music and hold out in Aomori to go higher.


I say again and again. This release party is free to enter!! I really want to share and enjoy my memorial release night with many people from my hometown Aomori and outside Aomori, so feel free to come!!

Here is the flyer.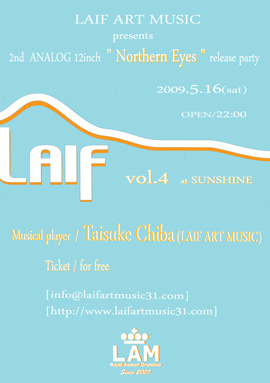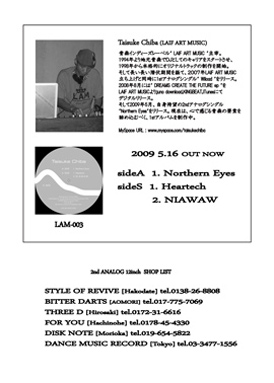 I'm so excited to get feedback from people who listened to my record after I make a release on May 16th, so I'll really appreciate it if you could tell me what you feel without hesitation. Sending e-mail to me directly is also welcome.

At the end, once again I am deeply grateful to all staffs at STYLE OF REVIVE, Bitter Darts, THREE D, FOR YOUADISKNOTE MORIOKA and DANCE MUSIC RECORD who decided to deal my record. Without you, I wouldn't never have been in this situation. I'm going to keep creating musics which remains in your heart!!

See you soon!!



LAIF ART MUSIC
TAISUKE