2011.8.23 @---@For you
Hi, finally it's just 1month left by the release of 1st album. I'm so excited. All the music were born in Aomori where I've lived for 34 years ever since I was born. The 1st album consists of 12 tracks, totally over 70 mins.


title "FOR"

1. THE WAY IN LAIF
2. DANCE MUSIC RESISTANCE
3. 4-LEAF
4. ADVERSITY
5. HAND IN HAND
6. WEETHING
7. CUP&CANDLE
8. FUTURE BELL
9. SESSION 450
10. A TO A
11. SEPTEMBER LOVE
12. BRIGHT BLUE

---

On sale:@September 23, 2011
Artist:@Taisuke Chiba
Cat No:@LAM-004
Price:@2,100yen(tax inj
I announce more details later about some dealers.
I deeply hope that these music will touch and reach many people's mind.
The next day of the album release, on 24th September, the release party is going to be held. I really hope to shere the night and great music with my friends, dancers, musicians and lot's of music lovers. I can't wait for the night coming.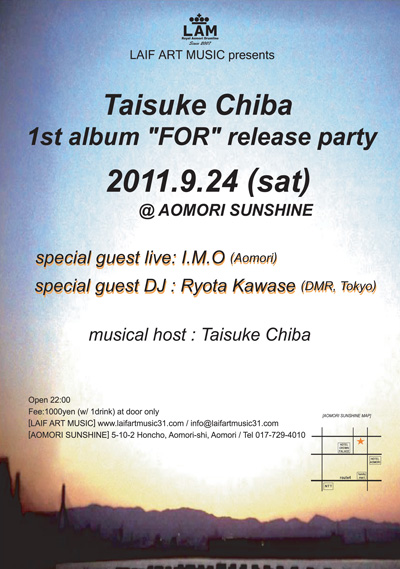 @click to enlarge


I'm going to update this diary page at the beginning of next month as usual.
See you soon!!


LAIF ART MUSIC
TAISUKE
Copyright(C)@2007-2010 LAIF ART MUSIC. All rights reserved.