+++ PROFILE+++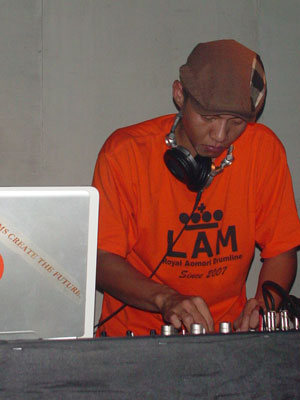 Taisuke Chiba (LAIF ART MUSIC)
Taisuke Chiba is based in Aomori Japan since born in 1977. He started his musical career when he was 17 as a HipHop DJ in some clubs in Aomori. When he was 21, the encounter with house music changed his attitude against music and just playing in a club came to not only interesting thing to enjoy himself. This became a big turning point in his musical career and started to make his original tracks. In 2007 he started his own label "LAIF ART MUSIC" and released his first 12inch "Wiload" from his label in March. From then he keeps making new tracks constantly and you can listen to some of his tracks on his myspace page. In August 2008 he achieved the goal of releasing his first EP "DREAMS CREATE THE FUTURE" including 4 tracks on juno download, then on KINGBEAT(JP) and iTunes. As the title of the EP means, he deeply hopes that his music reach the hearts of people over the world who live their lives hardly with dreams and hopes. In May 2009, he released 2nd single "Northern Eyes" in analog from LAIF ART MUSIC.
In July 2011, he has posted a new track, titled "HIMAWARI (Feel 3.11 mix)", which is available for streaming and for free download from his SoundCloud page. This track was donated for Japan earthquake & tsunami releif with a strong believes in the possibilities that music can bring out.

In September 2011, a long waited album,"FOR"is to be released from LAIF ART MUSIC. This new album compiles all of his new works produced during 4 years since when he launched his label "LAIF ART MUSIC".

Aomori is not so major place for music now but here is a man who tries to change and stir up the music produced in Aomori and keeps sending a strong message & love to all the music lovers in the world.


---
my special classics
---

+ Albums +

 Stilling, still dreaming / THA BLUE HERB
 Voyage of Dreams / Jephte Guillaume
 On another level / Los Hermanos

+ Singles +

 The prayer / Jephte Guillaume
 Precious hall / Kuniyuki Takahashi
 The Bells / Jeff Mills
---
Copyright(C) 2007-2008 LAIF ART MUSIC. All rights reserved.